By Rick Schettino, Potnetwork.com
Midterm voters in seven states will be deciding the fate of 36 cannabis policy reform measures on November 6. In addition to these, there are also numerous municipal marijuana tax and licensing proposals. What changes will voters be pondering as they enter their polling place? How might the proposed measures play out in each state?
A look back at 2016
A quick look back at the 2016 elections and the changes that have taken place since will give voters a good idea of just how quickly the landscape is changing in the U.S. when it comes to cannabis reform. Many advocates of ending cannabis prohibition consider the 2016 election to be a tipping point in the war against the war on weed.
Following the 2016 election the news media trumpeted headlines such as, "Marijuana Wins Big On Election Night" (Washington Post), "How the 2016 Election Became a Watershed for Weed" (Time), "One in every five Americans is about to get legally high AF after this election," (Quartz).
[Midterm elections and marijuana: Part II, US governors' races]
Nine states voted on marijuana-related measures in 2016. Four of those measures were related to medical marijuana, and five were recreational initiatives. Eight of them passed putting one in five Americans in a state where adults 21 and older have the right to the recreational use of cannabis. More importantly, more than half of Americans now live in states with regulated medical marijuana programs.
The biggest news of the day came out of California where the state with the longest running medical marijuana program in the country legalized the recreational use of cannabis.
Amanda Reiman, the Drug Policy Alliance, said ahead of the election, "If California legalizes, it is the death knell for federal prohibition." Adult use initiatives also passed in Maine, Massachusetts, and Nevada all of which also had existing medical marijuana programs. Only Arizona Failed to pass an upgrade to the state's medical program.
With each passing state, the American public becomes more aware of the benefits of implementing a regulated and taxed market for cannabis and more supportive of ending prohibition.
You will find more infographics at Statista
Fast forward to November 2018
Over the past couple of years, the percentage of Americans with a favorable opinion of legal cannabis has swollen from a meager majority to the point where now two in three Americans are on board. Even Republican voters have passed a tipping point with 51percent in favor of legal weed.
[Midterm elections and marijuana: Part I, US Congress]
The momentum created by the 2016 election —and bolstered by Canada's recent historical launch of legal cannabis — is not going to slow down until the Federal government acquiesces and ends Federal oversight and every state that wants weed has weed.
Midterm elections and recreational cannabis
Of the numerous measures appearing on ballots come Tuesday, two are related to the legalization of recreational use cannabis.
Although a vast majority of voters have already made up their minds on the issue, advocates and detractors alike have been working feverishly to gain ground and energize their base. Millions of dollars are being spent pounding away at social media promotions, TV ads, robocalls, and email blasts.
Let's take a closer look at state initiatives in Michigan and North Dakota, both of which look likely to usher in the legalization of recreational marijuana.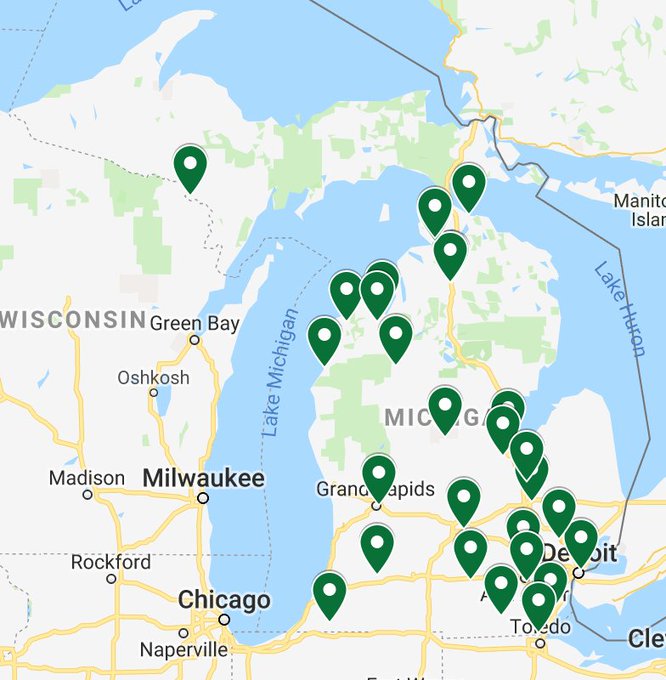 Michigan: Proposal 1 for the legalization of recreational cannabis
Medical marijuana was approved by Michigan voters in 2008 by a margin of nearly two to one. Eight years later, in 2016 bills were passed to create a regulated and taxed medical market. However, medical marijuana businesses have only recently been awarded licenses by the state's Bureau of Medical Marijuana Regulation.
Proposal 1, if passed by the citizens of Michigan would authorize the legal possession, use and cultivation of marijuana products by individuals who are at least 21 years of age and older. It also provides for the development of a regulated market consisting of state-licensed growers and retailers. Local governments would have the option to restrict the locations of retail establishments or ban them outright.
[Morning briefing: PotNetwork Holdings to the CSE, Boehner calls for legalization, Amazon feels generous]
Language favorable to home growers allows the cultivation of up to 12 plants at home for personal consumption. Residents may possess a limit of 10-ounces of marijuana. Any amounts over 2.5 ounces must be secured in locked containers.
What the polls say
According to a recent poll, a majority of Michigan voters — 57 percent — support Proposal 1. Only 40 percent said they are opposed. Although there's a 17 percent margin, the passage is by no means a done deal.
A lot rides on whether or not advocates can turn out younger voters. Only about 38 percent of respondents over the age of 65 are in favor. And while 57 percent of voters say they support the measure, only 43 percent say they "strongly" support the measure leaving 14 percent who "somewhat" support the measure.
Pro-legalization campaigns have outspent the opposition in recent months. However, both camps are landing last-minute, six-figure contributors. Spending on advertising is expected to rise substantially in the final days before Tuesday's election.
[Relaxed marijuana regulations lead to investor opportunities around the world]
The most prominent argument in favor of the measure is that it will free up resources currently being spent enforcing low-level marijuana offenses. According to Michigan State Police, there were 20,657 marijuana-related arrests in the state in 2017. An estimated 87 percent are for possession of one ounce or less of marijuana.
As is the case nationwide, minorities are at a disadvantage when it comes to cannabis prosecutions and arrests. In Michigan, African-Americans are three times more likely to be arrested than Caucasians.
The opposition
Groups which are opposed to the measure say cannabis should be decriminalized, rather than legalized. Although that does indeed free up crime-fighting resources, it misses out on major economic benefits such as diverting black market money back into the state economy, creating jobs and bringing in substantial tax revenue. The proposed six percent sales tax and ten percent excise tax are estimated by the state Senate Fiscal Agency to generate more than $70 million in 2019. That number could grow to more than a quarter of a billion annually by 2022.
North Dakota: Measure 3 for the full legalization of cannabis
The possession and use of marijuana for recreational purposes is currently illegal in North Dakota. The North Dakota Medical Marijuana Legalization initiative, Initiated Statutory Measure 5, which passed in 2016 allows the use of medical marijuana by patients with debilitating medical conditions such as cancer, AIDS, hepatitis C, ALS, glaucoma, and epilepsy. As with Michigan's medical measure, it was approved by a wide two to one margin.
Measure 3, which will appear on Tuesday's ballot, could make it legal for anyone 21 or older to grow, purchase, possess, and consume cannabis in North Dakota. The measure is considered to be one of the most liberal cannabis policies in the nation. For example, the measure sets no limit on the number of plants that residents can grow, nor the amount of cannabis they are allowed to possess.
[Marijuana stocks weekend investor roundup: Analysis of the week's most important events in the cannabis industry (November 2)]
Measure 3, should it pass, will remove marijuana from the list of Schedule I controlled substances. It would prohibit the prosecution of those over the age of 21 for non-violent marijuana offenses including growing, manufacturing, distributing, selling, or testing marijuana with the exception of selling marijuana to a person under the age of 21.
Past convictions for possession will be expunged, and the state's immunity from damages resulting from expungement lawsuits will be eliminated. Although North Dakota is #47 on the list of states with the highest percentage of cannabis users, one in seven North Dakotans have some marijuana charge on their record.
The sale of marijuana would be subject to the state's 7-12 percent sales tax.
Legalize ND and Legalize North Dakota have been the main proponents of the measure. And North Dakotans Against the Legalization of Recreational Marijuana and Healthy and Productive North Dakota have been working to raise opposition.
What the polls say
Although many expect the measure will pass, victory is not guaranteed. While only 36 percent of voters in the state are against legalization, 51 percent have said they are in favor.
Whether the state legislature likes the bill or not, if the legislature does not address it within a month of its passing it will kick in automatically.
Medical Marijuana Initiatives
Tomorrow, in Part IV of this series, we'll take a look at the two medical marijuana initiatives being put forth in Missouri and Utah.